Best of Nexus Mods: Stardew Valley Mods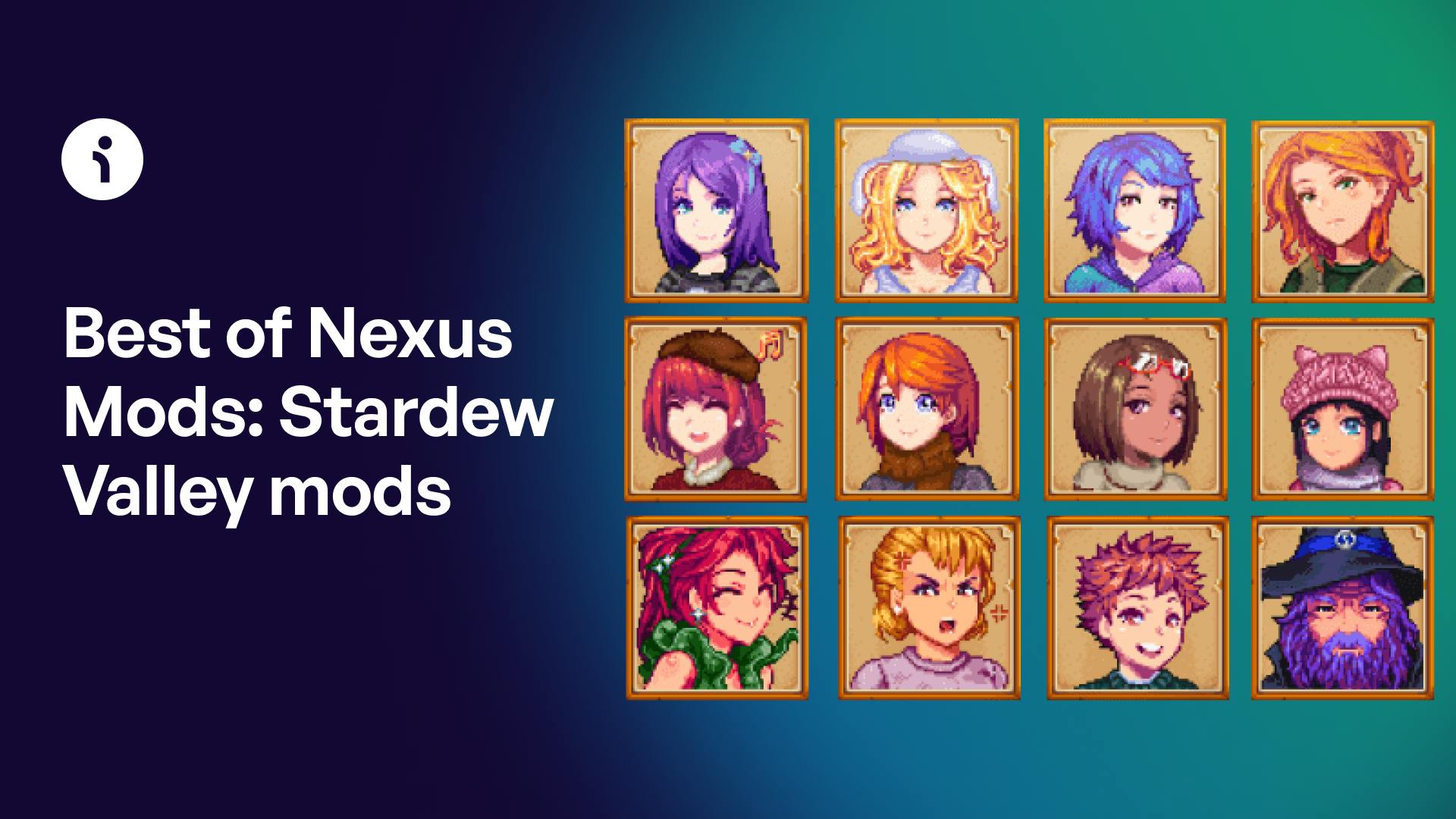 Stardew Valley mods have allowed fans to customize their beloved game world exactly how they want to experience it. There are Stardew Valley mods that do everything from simply making fishing easier – to allowing your character to marry the entire village. The sky's the limit. 
There are even Stardew Valley character mods like the AI mod that allows you to chat with and create your own Inworld powered AI NPCs that you can interact with in real-time and ask any question you want. 
This article will showcase our favorite Stardew Valley mods and the creative minds behind them. And if you're interested in trying out more generative AI-powered mods, check out our Early Access for AI Games program. 🎮
✨ Talk to Inworld's AI Villagers - Stardew Valley character mods
Overview: Powered by Inworld AI, this Stardew Valley mod lets players talk about anything with AI enhanced NPCs using the in-game chat box. The mod comes loaded with 33 Inworld's brains for all your favorite NPCs in the game making them ready for conversation. You can also tweak the characters if you want them to do something specific or add new personality traits or backstories to them. 

Modder: Inworld

Why we love it: This mod showcases what the future of Stardew Valley character mods and gaming could look like by allowing players to communicate dynamically with NPCs in the game which makes character relationships that much more immersive.

Reception: "I just started playing again and added this mod in. Best mod ever… I just spend half the time talking to NPCs. You can also add really weird stories in and it's super funny! I made cookies with Evelyn… most wholesome thing I ever did in the game haha. This mod just brings the world to life." @Ilivepuppys on Youtube
✨ Stardew Valley Expanded Mod 
Overview: The Stardew Valley Expanded Mod creates hours of new content for Stardew Valley helping players to recapture the magic and sense of discovery experienced when they played through the game the first time.

Modder: FlashShifter

Why we love it: If you're modding Stardew Valley, this is one you can't miss. The Stardew Valley Expanded Mod is easily among Stardew Valley's best mods.. We love the brand new world map and all the new storylines that it creates (especially those with some of the game's secret characters!).

Reception:  "This is the only mod that I can truly say is truly an expansion of the world. This felt like what Stardew Valley would look and felt like in an alternate timeline."  @johnlennardcapati8879 on Youtube 
✨ DCBurgers High Res Portrait Mod - Stardew Valley portrait mods
Overview: This Stardew Valley portrait mod creates High Res portraits for all 69 vanilla villagers in the game as well as additional portraits for Stardew Valley mod packs, including Stardew Valley Expanded.

Modder: Tryptan

Why we love it: When someone chooses to mod Stardew Valley, portraits are usually one of the first aspects of the game that they change..The villager portraits in this mod are beautifully done. 

Reception: "DC's portraits are gorgeous! I only started playing yesterday and I thought I'd stick to the vanilla portraits at first but na uh" @akemus9788 on Youtube
✨ Stardew Valley Anime Mod 
Overview: The Stardew Valley Anime Mod is another portrait mod. This one, however, makes anime-art inspired portraits for many NPCs in the game.

Modder: Ohodavi

Why we love it: The anime portraits are adorable and really add another fun bit of flavor into the game. The mod creator is extremely active in creating new portraits for the main characters, as well as ones in the Stardew Valley Expanded mod. 

Reception: "I really like your painting style, it's very beautiful." @Lanchi on NexusMods 
✨ Stardew Valley Tractor Mod
Overview: Stardew Valley Tractor Mod gives a player the capacity to purchase a tractor and a garage to place the tractor in. The tractor can be used for various activities including using your tools, planting, or even collecting milk. 

Modder: Pathoschild

Why we love it: The versatility of the tractor is impressive. You can even use it in the volcano dungeon or to shear wool from your animals. This mod is another one you can expect to see in many of the mod packs for Stardew Valley, due to how helpful the tractor is across many aspects of the game. 

Reception: "Yaaay! More game things that make life better. Thank you modders!" @WildServal on Youtube 
✨ CJB Cheats Menu - Stardew Valley cheat mod
Overview: This mod allows a player to do a number of game breaking activities through a cheat-menu that gets added to the game. Some cheats include watering all fields at once or warping between areas in the game world.

Modder: Pathoschild

Why we love it: Sometimes players get tired of doing their 'video game chores' and this Stardew Valley cheat mod lets them focus on what they enjoy most in the game (whatever that may be). It highlights another feature of popular mods for Stardew Valley, in how it allows players to skip over aspects of the game they don't enjoy to fully immerse themselves in their favorite areas of the game.

Reception: "Absolutely love this mod! Thank you so much, it has worked perfectly <3 Keep up the great work!" @Aistear on NexusMods 
✨ More Hairstyles - Stardew Valley hair mods 

Overview: This Stardew Valley hair mod adds new hairstyles to the game as well as taking existing hairstyles and making them look more vibrant.

Modder: Pencilstab

Why we love it: It highlights what we love about modding communities. Mods often add simple and elegant features players wished came with the game like being able to add hairstyles that players feel fits their character better.

Reception: "Look at you! Uppin' the playability of my game all over the place. With this and your portraits, I'm having the best of times." @Naomeh on NexusMods
✨ Stardew Valley clothing mod
Overview: This clothing mod creates a number of character retextures that allow different shirts for the player to use on their character.

Modder: Coii

Why we love it: Sometimes you get tired of staring at the same outfit on your character and this Stardew Valley clothing mod lets you diversify your character's wardrobe in fun ways.

Reception: "I love all your content <3" @Blahblooo on Nexus Mods 
✨ Easy Fishing V2.0 - Stardew Valley fishing mod
Overview: This mod has three settings to make fishing in Stardew Valley 25%, 50%, and 75% easier respectively. It does so by reducing fish movement by the specified percentage.

Modder: Mmanlapat

Why we love it:  Sometimes there's that one activity that you don't enjoy in a game and this Stardew Valley fishing mod lets players make fishing a more enjoyable experience and get back to other areas of the game to spend their time. For many players, this is one of the best mods for Stardew Valley because they feel frustrated around the fishing experience.

Reception: "Love this mod as it makes the fishing in the game an actual enjoyable thing as well as making it actually possible. The default fishing difficulty is just unreal and makes fishing terrible."  @Dekrosna on NexusMods
✨ Industrial Furniture Set - Stardew Valley furniture mod 
Overview: The modder behind this Stardew Valley furniture mod created over 170 new furniture pieces that can be used to decorate your home in the game. 

Modder: DustBeauty

Why we love it: It's a beautiful new set of furniture which can really change the art style in your home with this furniture mod. Who wouldn't love getting to decorate your home in the game in the cottegecore decor style?

Reception: "Absolutely gorgeous!! Been waiting so patiently for this. Amazing job and thank you." @Purplebunny97 on NexusMods
✨ Unlimited Players - Stardew Valley multiplayer mods
Overview: This mod eliminates the cap on number of cabins and number of players for the popular multiplayer mode.

Modder: DustBeauty

Why we love it: Want to experience Stardew Valley with all your friends? Love visiting other player cabins? This Stardew Valley Multiplayer mod lets you make the game world as big as you want it and play with your friends.

Reception: "THANK YOU! I'm so excited. My family and I are planning on making a single world where everyone can play instead of several co-ops between specific groups of people." @blossomnessstudios4446 on Youtube 
Talk to your favorite Stardew Valley villagers!
Interested in chatting directly with your favorite Stardew Valley villagers? You can access Inworld's Stardew Valley mod and start asking them about what they ate for dinner or what secrets they're keeping. 🏞️
You can also talk with a large selection of AI characters for free in the Inworld Arcade or you can sign up for our Early Access for AI Games program to get notified of any new games or mods with AI NPCs. 
Stay connected
Get the latest updates, events, and offers from Inworld.