Inworld study on the future of NPCs finds 99% of gamers think AI will enhance gameplay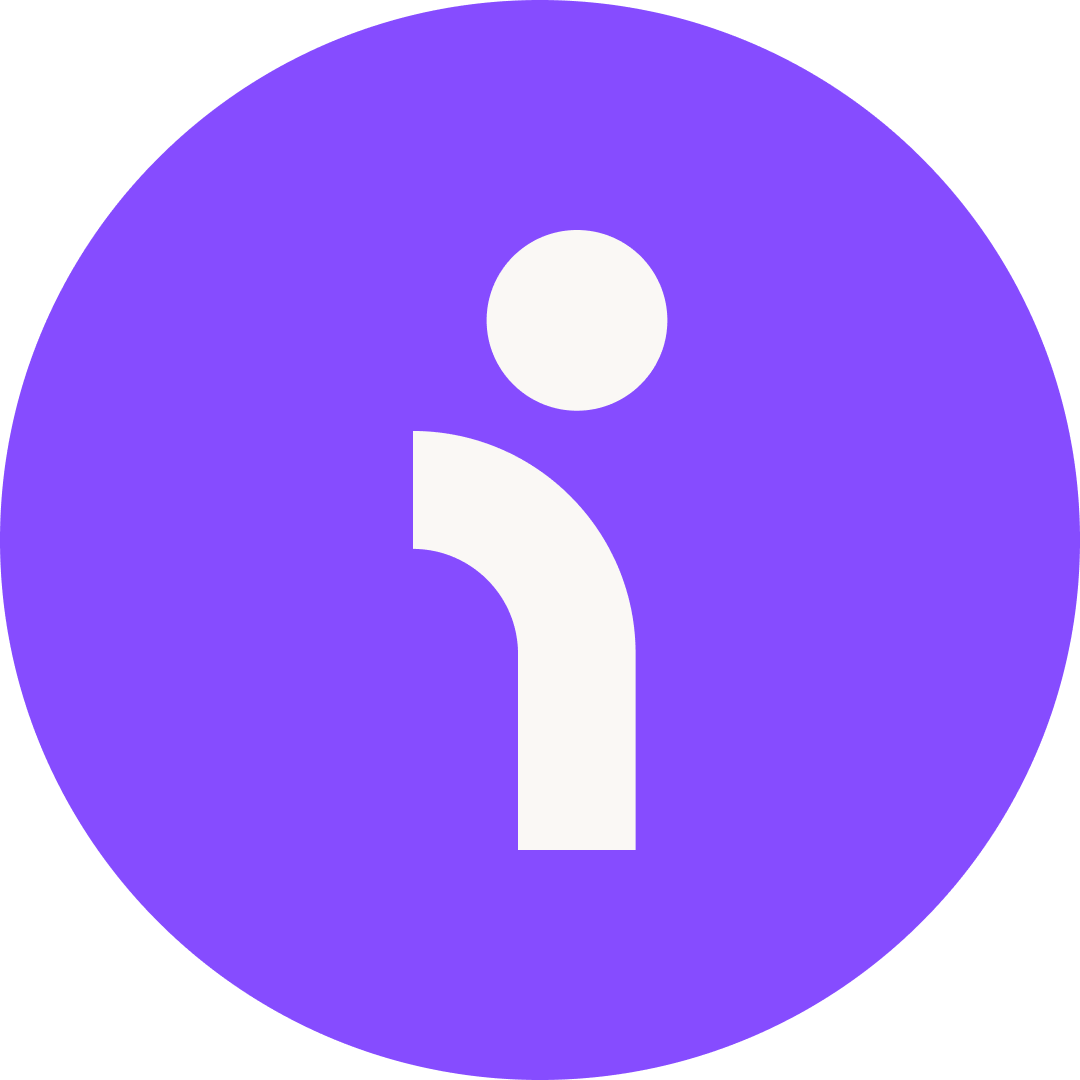 Inworld Team
February 15, 2023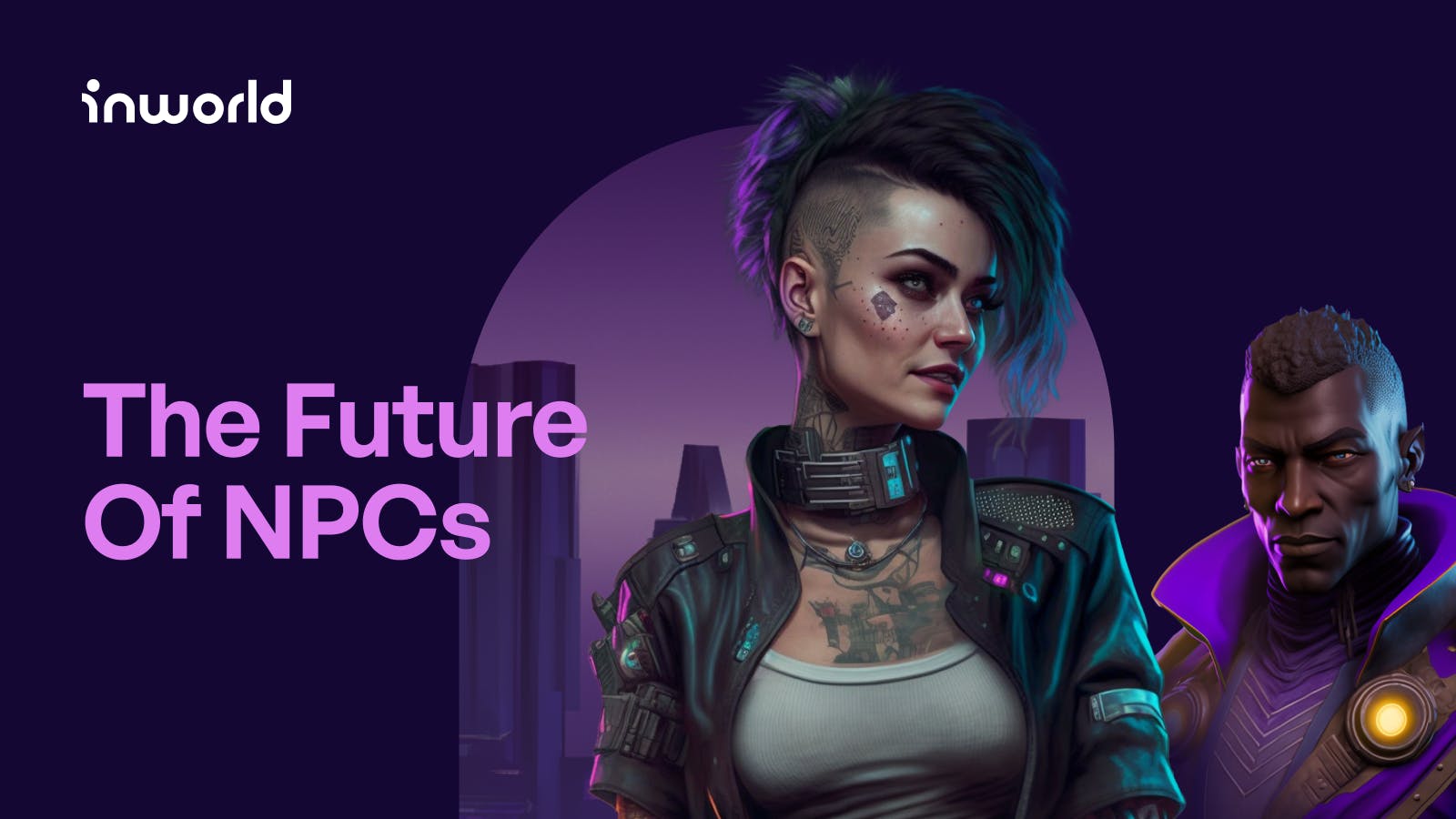 With the term 'NPC' now a common insult and viral videos parroting the inauthentic behaviors of NPCs, have you ever wondered what gamers really expect from NPCs? So did we.
That's why Inworld commissioned a survey of 1,002 U.S.-based gamers to better understand what gamers of various types love, hate, and secretly desire from NPCs. 
The report, The Future of NPCs: What Gamers Demand From Next-Gen Characters, had some surprising findings. One of the first comprehensive surveys on gamer's attitudes towards NPCs, the report lays out a clear path forwards for both indie and AAA developers when it comes to improving their NPCs.
We'll summarize some of the research's most important findings in this post but we recommend downloading the full report here for more comprehensive data and following our blog over the coming weeks as we share analysis of what the results mean for the industry. 
NPCs matter deeply to gamers.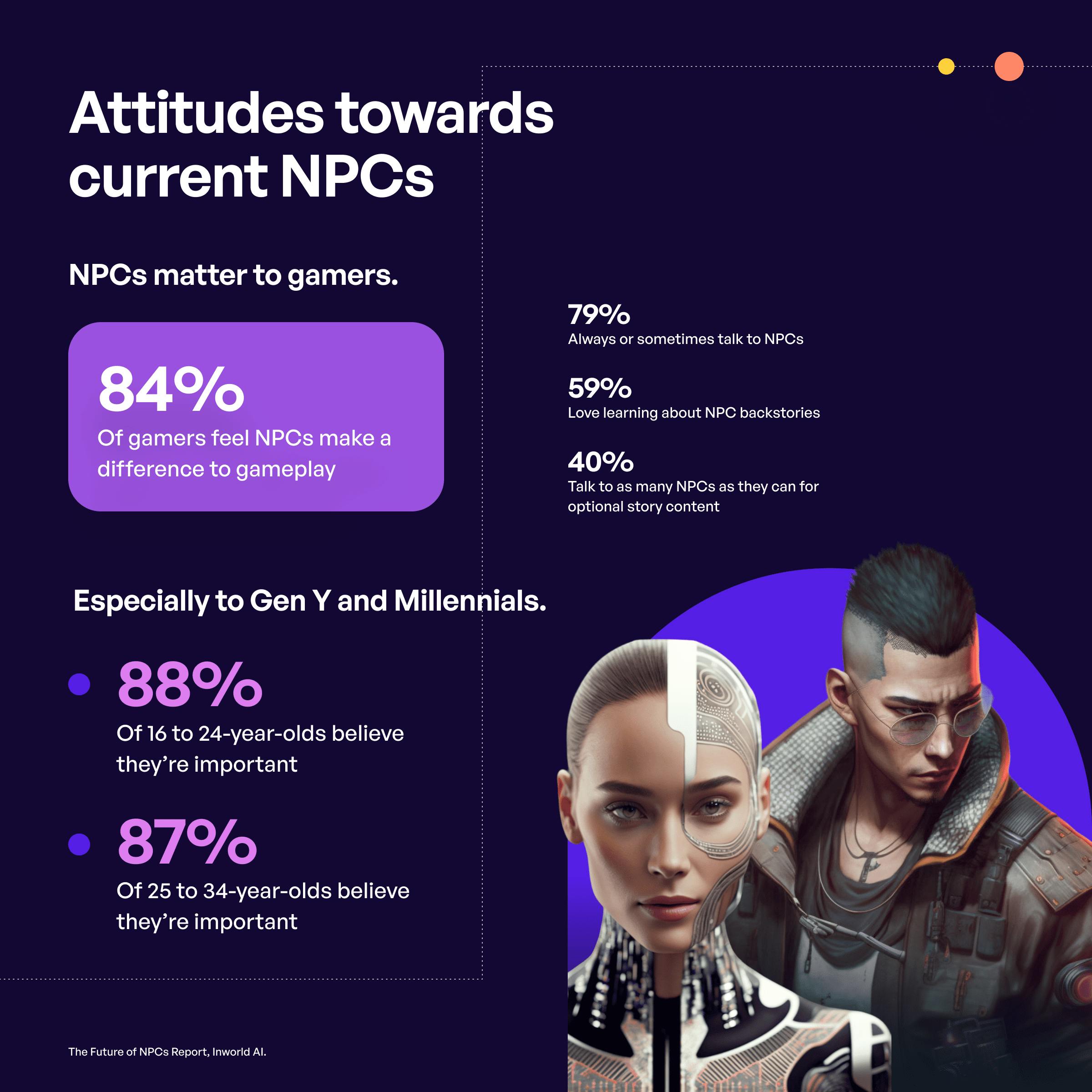 An overwhelming majority of gamers recognize the vital role NPCs play, with 84% of gamers feeling they make a substantial difference to their gameplay experience. 
Gamers are frustrated with current NPCs.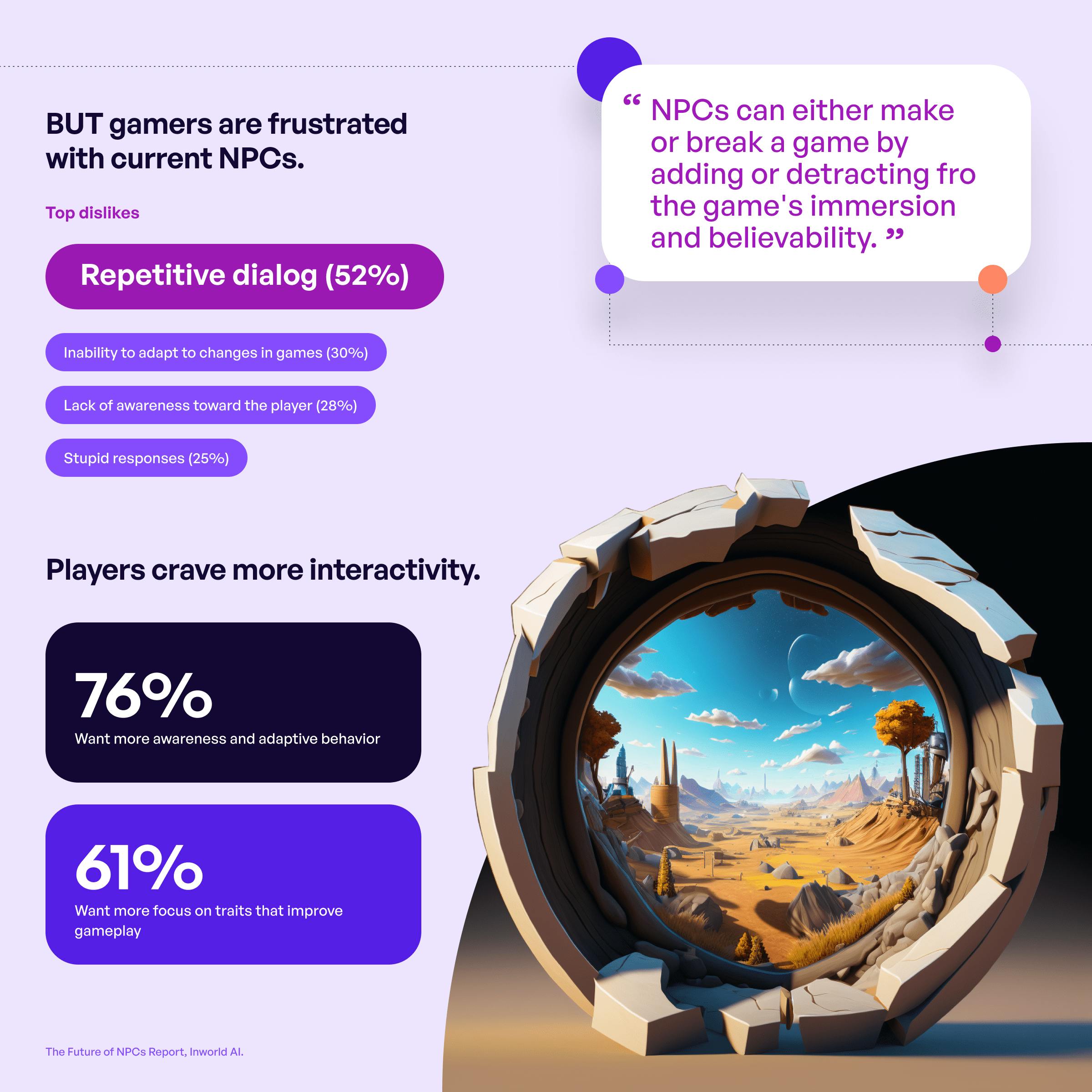 52% said they dislike repetitive NPC dialogue, while the repetitive movement of NPCs and their inability to adapt were also cited as top dislikes. 
Overall, gamers want more from their interactions with NPCs. 76% want better situational awareness and 68% want more advanced conversations. 
Advanced AI NPCs are the future.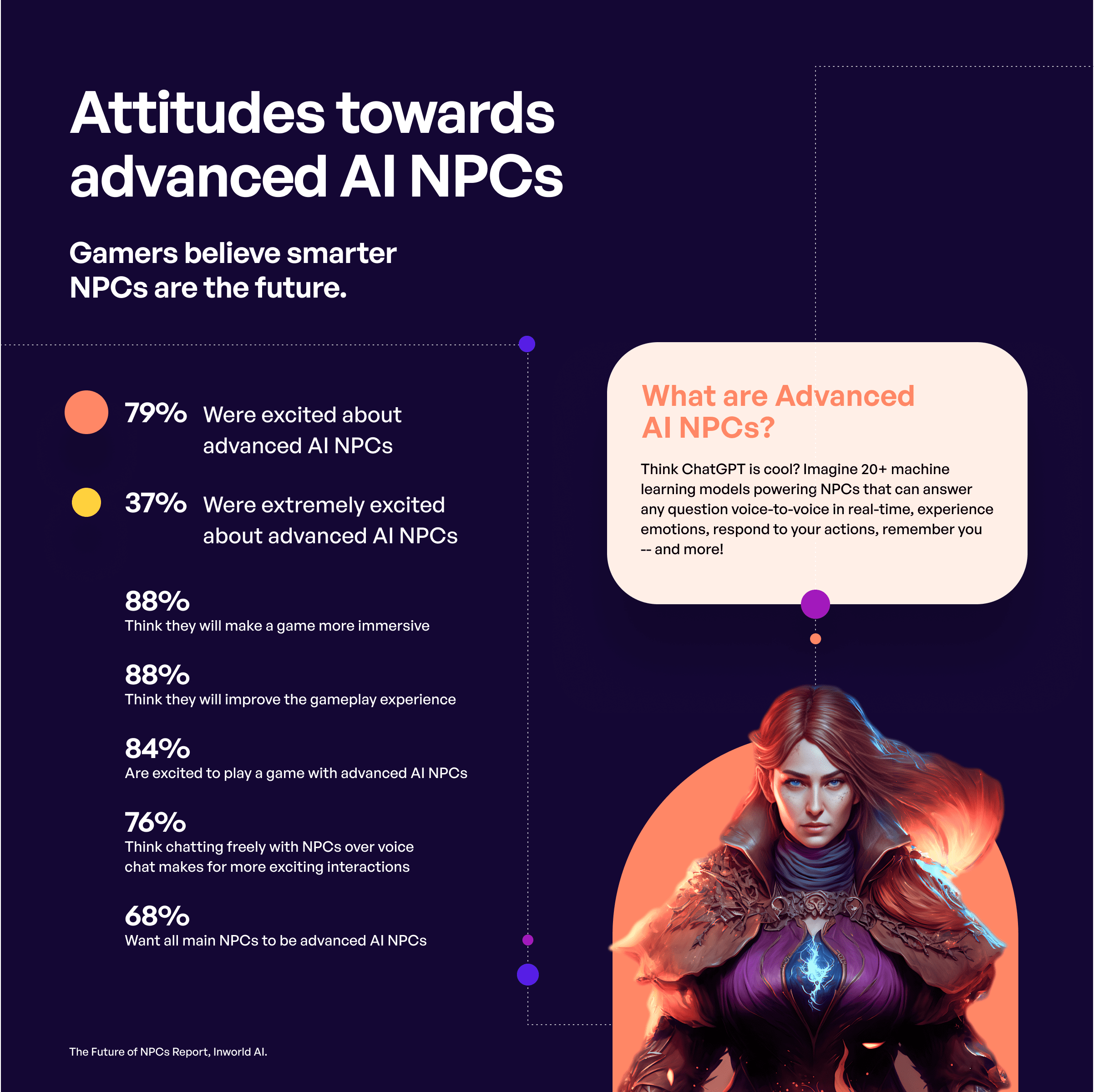 Respondents loved the idea of advanced AI NPCs – with 79% stating they were excited by AI NPCs, 88% believing they would make a game more immersive, and 78% saying they would spend more time playing games incorporating advanced AI characters. 
Gamers will pay MORE for more intelligent NPCs.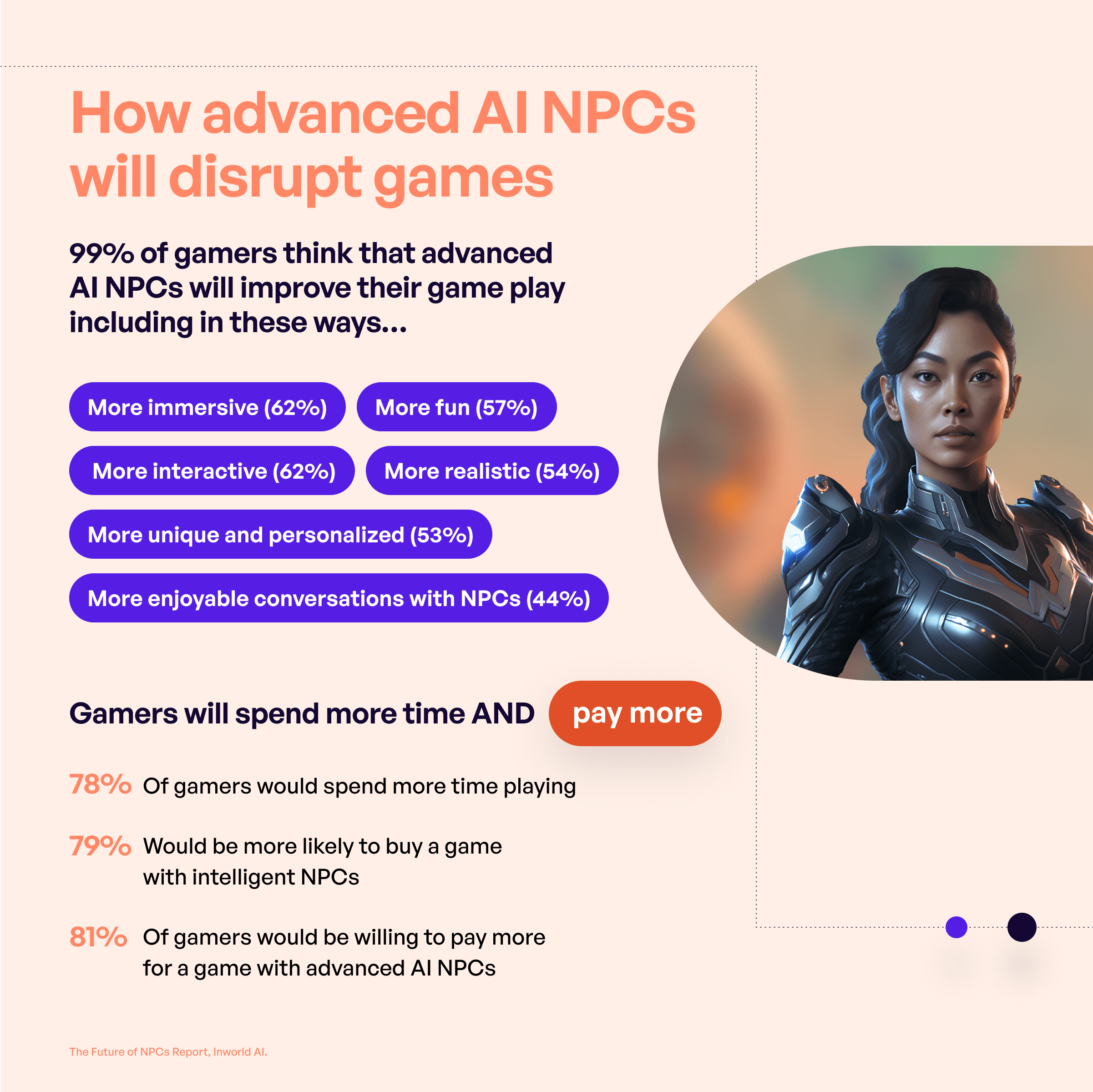 Gamers know what they want to see more of in their games – and more engaging and dynamic NPCs are at the top of their list. Gamers have more aesthetic personalization options in their games than ever before, thanks to the advancement of character creation tools. Still, they also want more personalized interactions with NPCs to help them feel immersed in the games they're playing. 
99% of gamers believe including Advanced AI NPCs would positively impact gameplay. 78% of gamers would spend more time playing, and 79% would be more likely to buy a game with intelligent NPCs. More importantly, 81% of gamers would be willing to pay more for a game with advanced AI NPCs.  
And many more findings
Intrigued? The full report breaks down things like 
Which behaviors gamers hate

Which game genres players are most frustrated with current NPCs

Which types of NPCs gamers feel are the best fit for Advanced AI NPCs
It's a must read for anyone involved in designing a game and the NPCs in it. 
Wait. What are Advanced AI NPCs?
Advanced AI NPCs are the next evolution of gaming. They're powered by multiple machine learning models designed to mimic the dynamic social nature of human interaction (rather than just shout the same two to three lines of dialogue!). These include cutting-edge natural language, text-to-speech, machine vision, and emotional processing models that allow advanced AI NPCs to engage in complex, real-time dynamic conversations and show awareness of players and their surroundings. 
While past attempts to create more lifelike NPCs have often revolved around building more complex dialogue trees, new technology will allow NPCs to leave dialogue trees behind entirely. Let the era of unscripted dialogue begin!   
With advanced AI NPCs, players can: 
Engage in sophisticated voice (or text) conversations

Ask any question about their backstory, game world or even what they ate for dinner

Enjoy their distinctive personalities and quick wit

Watch them respond multi-modally to their surroundings: from what players are wearing to someone stealing their potions 

See them act based on their own motivations – opening up new game mechanics 

Watch as shifts in their emotions affect their expressions, gestures, and movements 

Enter worlds where NPCs know their name and remember them.
What's Inworld? 
Inworld is a developer platform for creating dialogue and behavior systems that can be integrated into any avatar to power your NPCs. We use over 20 AI models to create lifelike, engaging, and expressive characters that mimic the dynamic nature of human interaction. 
Inworld is run by a team of experts and pioneers in the fields of conversational AI, generative models, and the gaming and entertainment industry.
Download the full report or, if you're interested in learning more, request a meeting with our Partnerships team at partnerships@inworld.ai.
Stay connected
Get the latest updates, events, and offers from Inworld.