Best AI RPG Generators and RPG AI Games 2023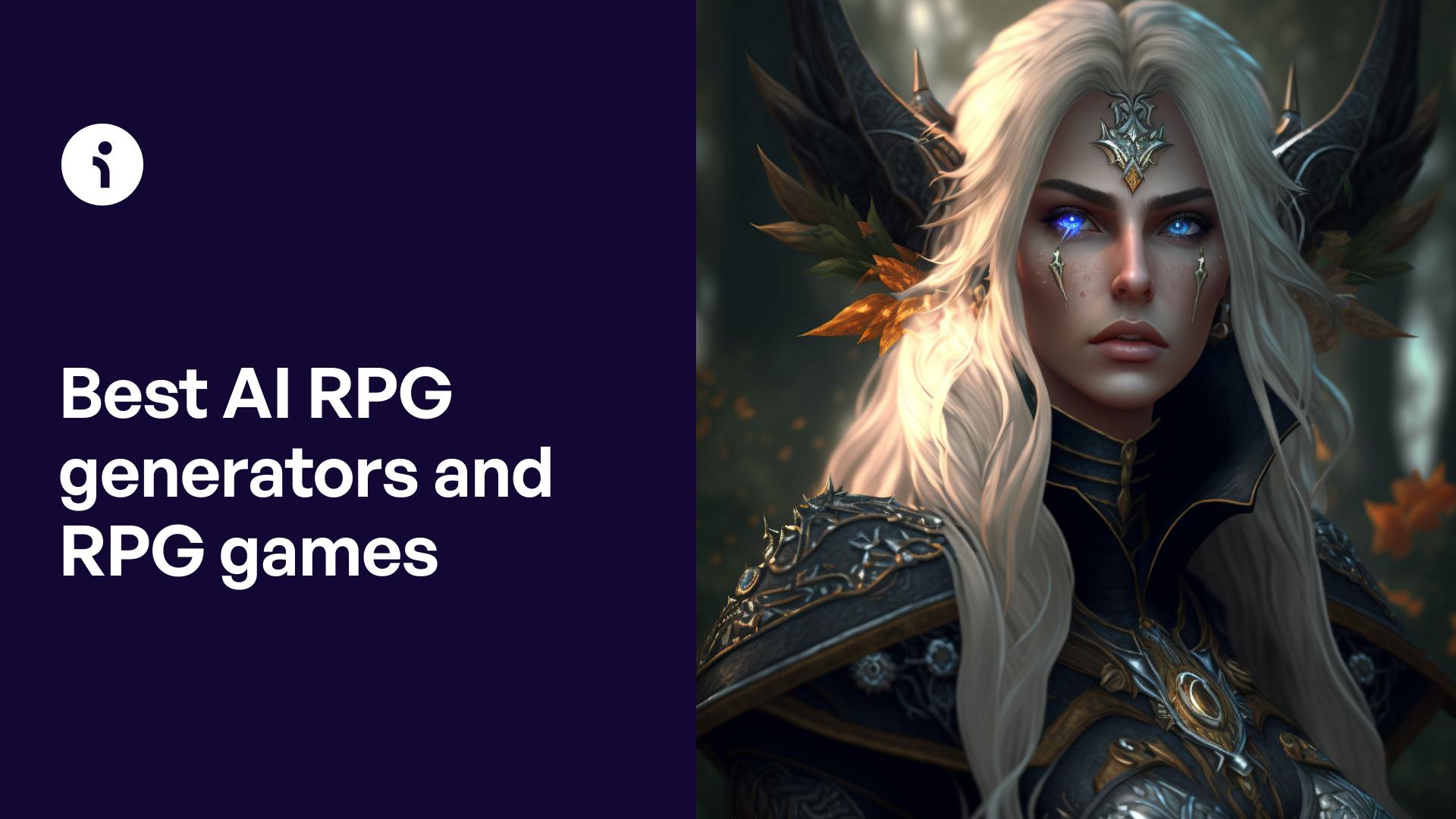 Since tabletop roleplaying games (RPGs) debuted in the 1970s, there have been attempts to automate running a game session. Those attempts have included things that make coming up with scenarios easier like random tables, play aids, audio tracks, maps, and more.
When video game RPGs immersed players in 3D fantasy worlds, a different problem emerged: the limited nature of in-game non-playable characters, or NPCs. While in a tabletop RPG a human game master can improvise, in a video game everything is limited by a script.
Now, almost 50 years since the first dice were rolled in a game of Dungeons & Dragons, generative AI is set to revolutionize RPGs in both tabletop and video games.
With generative AI, video game NPCs can go off-script, improvising their responses to any kind of interaction with the help of Large Language Models (LLMs). This allows for near infinite variety in NPC dialog, providing more depth and immersion than ever before.
An AI RPG could even substitute for your game or dungeon master, with freeform AI-generated games like AI Dungeon and AI Roleplay allowing players to create any scenario they want with just a few prompts. Or it can be a fully immersive AI RPG video game where AI is used to power NPCs so that you can interact naturally with them like in Origins. 
Part of the joy of tabletop RPGs is socializing with friends as you create a shared story together, but sometimes the preparation of a game scenario can be quite a chore! With the help of AI, you can generate maps, NPCs, item descriptions, and visuals at the click of a button. It allows you to spend less time preparing and more time playing!
We explore how AI can make RPGs more immersive, fun, and exciting with a roundup of the best AI RPG generators and games.
🏹 What is an AI RPG generator? 
An AI RPG generator uses AI to create RPG-related assets such as maps, character descriptions, plot hooks, magic items, and more. Some use procedural generation to create via algorithms, while modern generators may use large language or diffusion models to create text and visuals.
Broadly speaking, there are five main types of AI RPG generators and games.
1. AI RPG character description generator
Creating a character in a tabletop RPG can be slow, and that's before you come up with a character description. AI can help by writing a character description for you, and potentially generating an image to go with it.
There have been character description generators that use pre-written text chunks for years. For example, Here Be Taverns' NPC generator gives you nine characters, briefly described and illustrated. Similarly, the character description generator found at Fantasy Name Generators gives you a more traditional, prose-based description. We also can't forget the cornucopia of generators at Donjon, which has dozens of random RPG generators.
A more modern generative AI-based generator is found at Rolepl.ai, which will generate a character description and details for RPGs with a character portrait included.
2. AI RPG text adventure or AI text RPG
Generative AI can create RPG adventures in real-time, with the large language model effectively acting as the game master. If you want to enjoy a solo roleplaying experience, or just can't get friends together for a game, it's a great alternative. Examples include AI Dungeon, Saga and Hidden Door. 
3. AI RPG map generator
Need a map for your game session in a hurry? From whole worlds to dungeons, taverns or fantasy cities, there's a map generator for that. Recently, generative AI has made it possible to create fully 3D-rendered dungeons near-instantly, the primary example being Dungeon Alchemist.
4. AI RPG character generator
If you need RPG characters in a hurry, an AI RPG character generator can help. While it's easy to get a character 'rolled up' using a site like FastCharacter, what if you could bring a character to life with AI?
Character engines like Inworld can help you create an AI RPG character just by describing them. Give them some personality traits, a brief description and you'll be ready to have a direct conversation with them via your keyboard or microphone. Stuck for inspiration? Inworld can auto generate a character from just one line or even a few words, which you can then edit and modify to your liking.
5. AI RPG games
The classic video game RPG uses extensive scripts and pre-recorded dialog to bring NPCs to life, with the biggest productions such as Mass Effect and The Elder Scrolls series using hundreds of hours of voiceover for their characters.
However generative AI is potentially pointing to a new paradigm: RPGs where the NPCs are powered by AI. While it's still early days, there are already incredible mods such as the Mount & Blade II: Bannerlord mod. 
✨ AI Dungeon
✨ Inworld AI
✨ Dungeon Alchemist: AI RPG mapmaking software
✨ Mount & Blade II: Bannerlord Mod powered by Inworld
✨ Hidden Door 
✨ Rolepl.ai: RPG AI Character Generator 
✨ Agzaar - D&D map generator
The future of AI RPG games
The future of AI RPG games looks extremely bright with a number of demos, mods and in-development projects using AI.
It seems like every game studio is at least experimenting with the possibilities of generative AI for NPCs and gaming. That's not surprising. After all, our Future of NPCs report found that RPG players were more likely to be annoyed by repetitive dialogue in video games and more excited about AI NPCs. 
What's next? The possibilities are nearly endless. With gamers getting excited about massive RPG projects like Baldur's Gate III and Starfield, it seems like it could only be a matter of time before one of the major development studios adds AI to the mix. If you're interested in learning about new AI RPG video games as they come out, sign up for Inworld's Play Pass and we'll give you early access to cool new RPG experiences. 
🏹 How to use AI characters and AI NPCs in your RPG experiences
If you're looking to add AI to your tabletop or video game RPG, you've got some options.
Create an NPC that your tabletop players can chat with via Inworld Studio. The auto-generate option means you can even add them mid-game session.
If you're looking to add AI NPCs to a game, Inworld can be integrated via various SDKs including Unreal Engine, Unity, the web and more.
The possibilities are only limited by your imagination, much like a classic tabletop RPG experience. So, gather your party, grab your dice, and go create an NPC of your own in Inworld Studio.
Stay connected
Get the latest updates, events, and offers from Inworld.